496 MAGNUM HO BBC WHIPPLE SUPERCHARGED vs. 355ci Supercharged SBC Fuel Efficiency/HP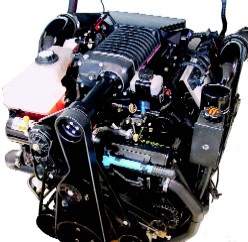 VS.
​
496ci MAGNUM HO (425hp) EFI WHIPPLE SUPERCHARGED 92-Octane Fuel
Dyno Results
RPM-3593
Trq-713.9
HP-488.4 PSI-5.4
BSFC-0.555
RPM-5371 Trq-642.6
HP-657
.1 PSI-6.2
BSFC-0.622
DATA
​
355ci SBC (435.7hp) TBS671-Supercharger 750 E-85 (104-octane) Demon Carbs
Dyno Results
RPM-4500
Trq-778.7
HP-667.2 PSI-12.0
BSFC-0.490
RPM-5500 Trq-754.8
HP-790.4
PSI-12.0
BSFC-0.530
DATA
​
Winner
355 SBC​
Winning Results
141-ci less!
133-hp more!
65-Trq more!
0.092 BSFC more fuel efficient!​
Brake specific fuel consumption (BSFC) is a measure of how many pounds of fuel it takes to make 1 hp for 1 hour (lb/hp-hr). A 0.5 BSFC number is considered the norm for an average, normally aspirated, carbureted engine. The lower the BSFC number, the greater the engine's efficiency well-tuned race engines get down in the "low 4s." On the other hand, supercharged and nitrous engines usually are run rich to play it safe, so it's not unusual to see high 5s" or "low 6s" in these applications.​
14.7Psi's = Double the engine HP.
or
6.803% HP gain per psi​
I'm no expert by far so I delt with:​
​
According to Boost Daddy, SBC are more efficient at HP vs. BBC when supercharged. When I spoke tho THE BLOWER SHOP, they highly
recommended this guy. The dude is very cool & is open to talk tech.
​
I
agree 92octane vs 104octane & 6lbs of boost vs 12lbs of boost makes a difference,
but consider:​
92octane @ $2.75
vs
104octane E85 @ $2.20.​
& the fuel requirement to make a certine level of HP & Tourqe (0.092 BSFC more fuel efficient) it should raise a brow. Also there is a weight factor benifit.​
I agree theirs no replacement for displacement, this comparison should raise the other brow.​