I got a chance to spend a day plus at Westech on the dyno testing a few things. Day 2 was cut short because of a water leak in the engine after the second intake manifold change. .. That kind of sucked, but the first day was kind of fun for the "Quick and Dirty" re-fresh I was doing for some testing. Bob (GN7) would have loved this stuff.
"Quick and Dirty" = I used a dingle ball hone at the shop and honed it myself and put a new set of rings in it with lots of help/direction from old friend Geoff Mummert (I watched a lot). This engine has been together since 2011 and has many river miles on it and nitrous passes. I hurt a couple pistons back in Oct running on the bottle. We also put a different cam in it to try out a couple concepts we're working on. The new cam is 275/276 at .050" with a lobe lift of .455/.421 (1.8 rocker) on a 113 lobe sep ran straight up. The old cam (that made 948 hp at 7,200 ) was 281/286 at .050" with a lobe lift of .435/.438 (1.8 rocker) 113 lobe sep and advanced 4*. We shortened the duration up so we could keep the power numbers in the 7,200 - 7,400 rpm range. Peak hp target was 7,200.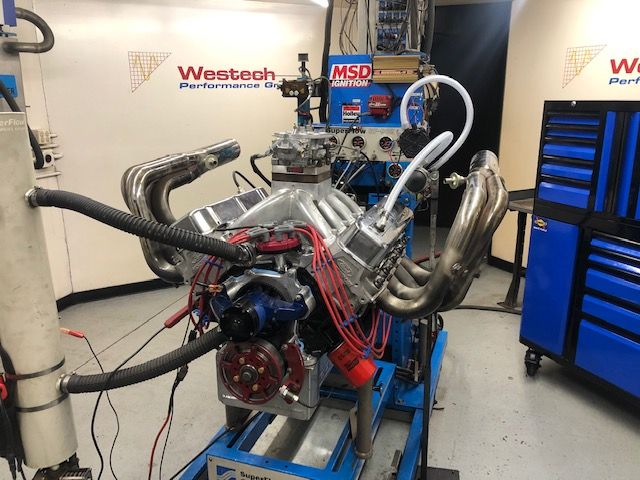 Anyway, after getting a good baseline for the single 4 1,200 ( carb built by John at C & J Engineering) I put the flame arrestor on the carb to see what it would do.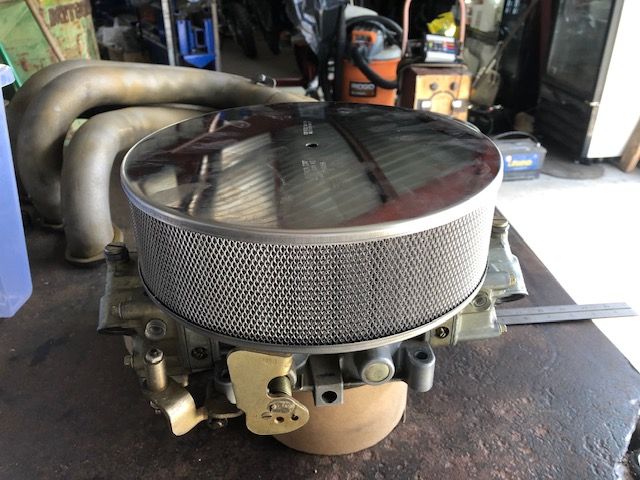 3" tall flame arrestor.
Run 8 - no flame arrestor:
Run 10 - Flame arrestor:
We never leaned on it with the single 4. We were just getting a baseline. We didn't even re-jet it on the dyno. Had we worked and got the oil to 180* and pulled 3 - 4 jets out of it to get the AF closer to 13.0 she would have made a bit more power and topped the 2011 single 4 number. We just didn't chase it, because we wanted to spend time on the TR.
After the flame arrestor change we did an oil change and then a few more changes including the tunnel ram and two 1,050's: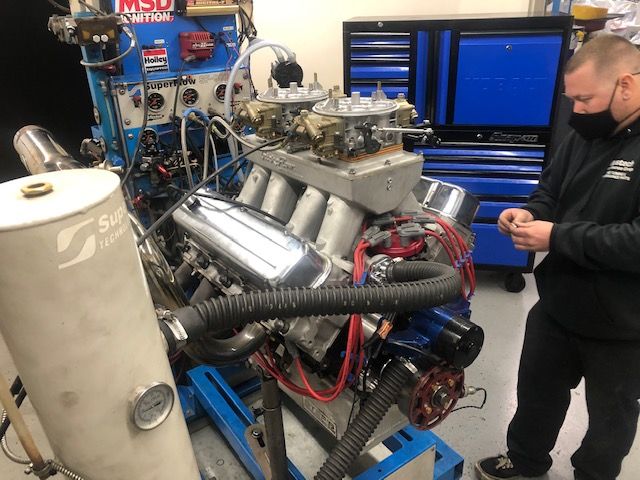 The results were pretty good, but there is more to be had.
John at C&J Engineering did the TR carbs as well (I might have been his Customer of the Month in February) and they are damn efficient with their low .4 BSFC numbers. They look damn good too: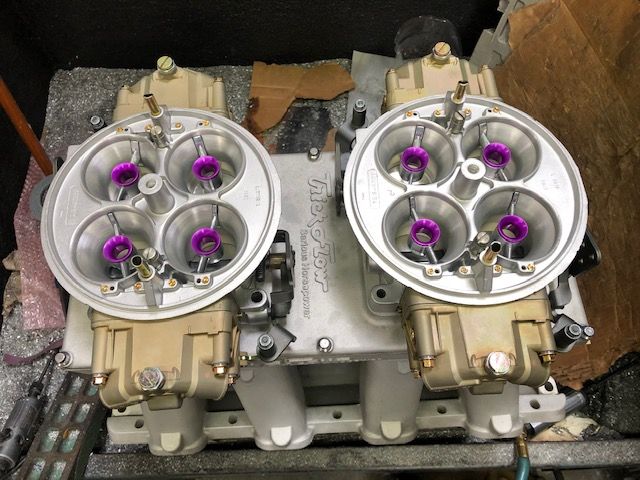 I had both carbs- sent them to him to make a "matching set"
There's more to be had, so we'll be going back in May shooting for 4 digits.
That's a little electric Ford vac pump mounted to the engine. It was worth 10 hp and kept the crankcase at a negative 1.7 -1.9" on the single 4. When we swapped out to the TR we let it dry during lunch and were going to hook the vac pump up after some runs letting the silicone dry, but on the third pull we blew out the bead on the rear China wall. We tuned the vac pump on to control the oil leak and it was able to maintain -.5" for most of the pulls. From 7,000 -7,400 it went to positive .5" . That's a loss of 10 hp from where it would have been at -1.8" of vac. When we go back the new GZ vac pump will be mounted and we'll be testing at 9"-12" Vac to see what happens. There will be more than a few mods to the TR and we'll be testing at least 3 separate carb spacer combinations and we'll play with advancing the cam 2* -4*.
One thing about the flame arrestor ... When we go back I'll have two of them with some mods to place on the TR. I think they'll actually help the air flow to the carb and help the signal. The engine is pulling between 1,150 - 1,250 cfm running the single 4. With the TR the demand on each carb is cut nearly in 1/2. The flame arrestors should be able to handle the flow of 650 - 750 cfm each and not be a restriction. We'll also have a couple of K&N filters on their velocity stacks to test as well.
Keep ya posted.
Have a great 2021 boating season ...
Sleeper CP
Bob would have loved this shit ..... I still regret the fact that I didn't drive up to LA for his Celebration of Life service. .....
I do miss him much, for a person I never met in person. Godspeed GN7... I hope you're making some sweet noise out there somewhere.
All the best my friend,
Sleeper CP
Jon