Discussion Starter
•
#1
•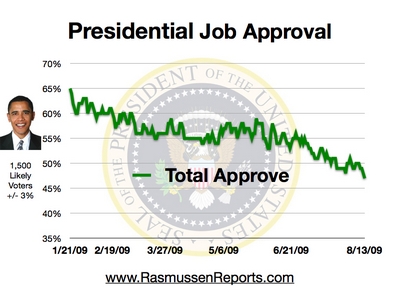 Today's poll...........47% overall approval. I am surprised it is this high!
"Overall, 47% of voters say they at least somewhat approve of the President's performance. That's the lowest level of total approval yet recorded. The President's ratings first fell below 50% just a few weeks ago on July 25. Fifty-two percent (52%) now disapprove.
Seventy-seven percent (77%) of Republicans disapprove along with 65% of those not affiliated with either party. Seventy-eight percent (78%) of Democrats offer their approval. Most women (51%) offer their approval while most men (56%) disapprove."
What republican or 33% can sit there and say they are republican and say they support him? I suspect they have no clue what a republican or conservative is.