A few oil pan questions:
Old: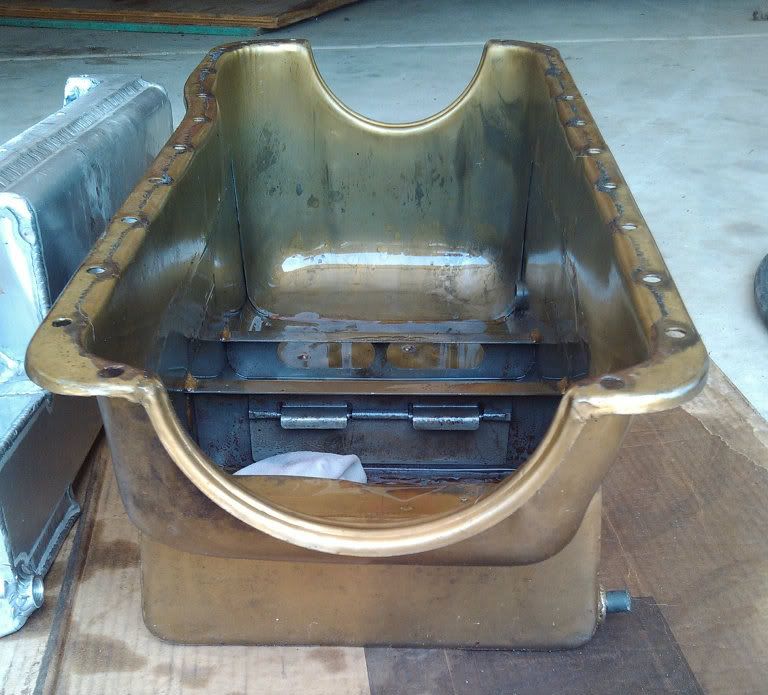 New: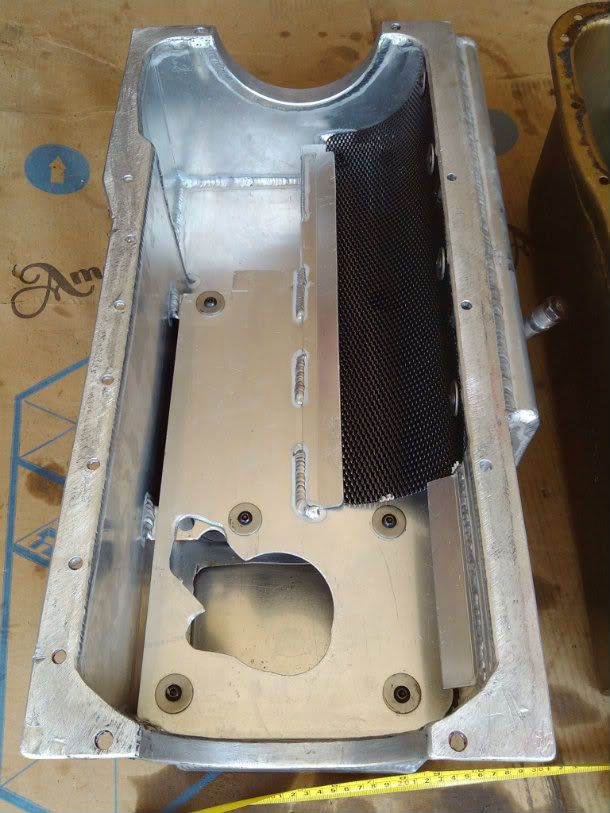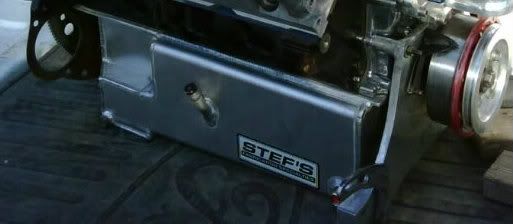 So after a weld repair on a leaking bead by The Bostick I got the oil pan back on the engine, yet again. Checked for leaks this evening .....all is well so it will get dropped back in the boat this week: A clean shop vac set on reverse and a bottle of soap and water works just great checking for leaks after putting the pan back on. Passed inspection
Before I put the new pan back on the engine I put the two pans side by side and took some measurements and pictures. We'll see if I can get this thing to maintain oil pressure. After the last trip with the new pump and pick-up the oil psi was better than before. It would hold 56-58 psi at 4,000 at 225* it would that to 4,500 and then it would take a dive when I stood on it.
Talked to a couple friends at the river, including Bostick, they all said "pull a couple qrts out of it, sounds like a windage issue, and see what happens" It had the oil leak on Sunday morning, so I never got around to doing it ( pulling two qrts) to see what it would do.
I found the dyno sheet from when the engine was at Westech and it had great oil psi during all the dyno pulls. I called Steve and talked to him about it and he said " pull two quarts of oil from it" Well when it was on the dyno we had 8 qrts in the pan ( 12 qrt pan) in the boat I've been running 10 qrts like I always did with the Dooley's. Steve reminded me to set the pan on the floor at 4-5* as it would sit in the boat and mark the dip-stick. He also said he see's this all the time with big oil pans. There are lots of 12 qrt pans out there running around with 8-9 qrts in them. So I've re-marked the dip-stick at 7 qrts and 8 qrts. I've going to start with 7 in the pan, 9 total in the system vs what I use to run for a total of 12 qrts and see what happens. Then I'll add a qrt and see what happens at 8 qrts. I just hope the oil doesn't get to hot with less volume.
What we saw on the dyno with 8 qrts of 15-50 Mobil 1:
What do you think is happening in this pan that it can't run with 10 qrts in it like I ran in the Dooley's? Actually I'm assuming running just 7 or 8 qrts will work, if it doesn't the pan will come off an sit on the shelf. I'll know in a couple of weeks. The newer pan would seem to have more/better features to control the oil, both pans have a lip at the back of the pan to keep the oil from sloshing up the back under hard acceleration, the new pan has more volume with the kick-out and is approximately 3" wider.
this has truly been a case of " it if isn't broke don't fix it" for me. Just one more thing and I'm done and back to using the old pan. hopefully the reduction in oil volume will fix the pressure issue.
Thoughts ??? and keep it constructive please.
I'll post a few more pictures of the internals tomorrow.
S CP
Jon