Discussion Starter
•
#1
•
The BBC cam tunnel is key and with a .400 lobe the base circle size is 1.140 and with a .430 lobe your base circle is 1.089 Using Lunati Pro Mod rods, Oliver, Callies Compstar rods, Crower stroker rods, Scat I beam with 7/16 bolts with work with these cams. The .904 lifter bores make for a win win situation bigger lifter makes for a stronger lifter plus more lifter bore surface area.
Features:
- Brand new precision machined, light weight cast iron block.
- Big block Chevy cam bore
- .904 lifter bores
- Billet steel main caps
- ARP main studs
- Siamese bores 4.000" or 4.125" (unfinished).
- Extra thick decks ensure reliable head gasket seal.
- Blind head bolt holes don't go through to water jacket.
- Clearance for 3.75" stroke with steel rods.
- 350 main journals accept commonly available crankshafts.
- Uses 1981-1985 stock style oil pan and dipstick.
- Uses stock stamped steel or plastic timing cover.
- All OE bolt holes for starter, clutch ball, etc...
- Priority main oiling system directs oil to main bearings first for more dependable lubrication.
Dart just sent me a pic of the caps and bottom end view of the Pro SHP block if it fits your build contact your local Dart dealer!!!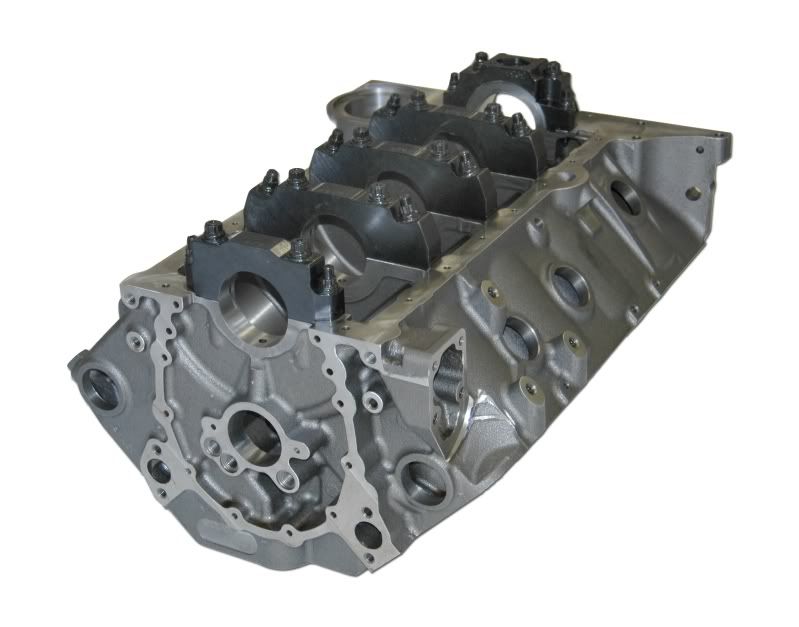 31161112 is the 4.000 bore block
31161212 is the 4.125 bore block
And their will be no one peice seal blocks availiable because they have no rear main billet cap for one peice seal crank