I decided I wasn't going to spend any money on one of my two bikes so I drove the sweep truck as the DD so the other two sweepers could drink as much as they wanted. As the DD I only had 4 beers in 5 hours.
28 riders met in Jacumba (Ha-cum-ba) they left at 8:15 pm 85* at 3,000 ft and rode to the desert floor in Borrego approx 500 ft above sea level it took the group a little over 2 hrs to ride the 18 miles. Some very nasty rocky single track riding. They probably had 45 minutes to an hour waiting time on the trail. It was windy and 102* on the desert floor at the Lazy Lizard bar. I think the 28 rides and the three chasers about doubled the population of the town of Borrego.
The chase truck left Jacumba late and got to the Lazy Lizard at about 9:15 after having a couple of beers and smoking a couple of Backwoods in the breezy 85* at the top of the mountain:
Here are a few camera phone pics: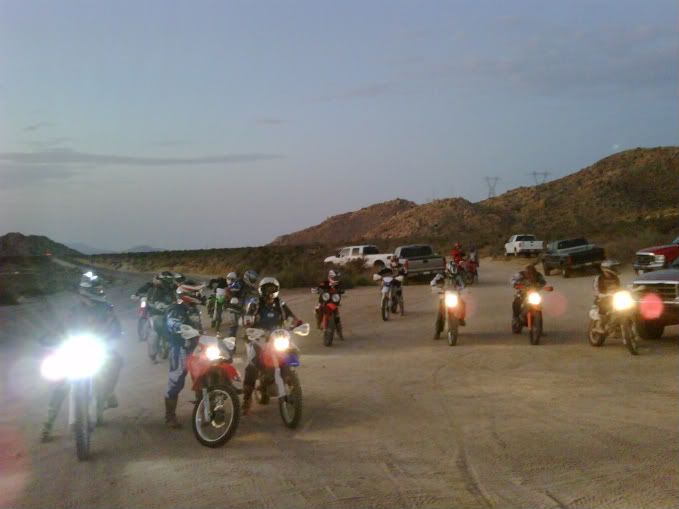 I'm not a 2-stroke rider buy I loved my friends new KTM-300 (electric start and a Arizona street plate even):
We had Honda 650's, 450's, Yamaha 450's, KTM 450's, and even two Beta's. One of this years winning Baja 500 riders was in the group on one of the Beta's and the group included several past Baja 500 and 1,000 (class winners) The riders had a blast, but I did too being chase and it was a lot less work.
We left the bar at 12:00 am and the chase truck followed 28 riders up Honey Springs grade
bulb . Everyone got home safely I hit the bed at 2:00 am.
Sleeper CP
Big Inch Ford Lover