Discussion Starter
·
#1
·
I picked this boat up last summer and just now got into it. I was able to get the motor running easy when i first got it but never took it out. I knew i would have to do some work to it as it looks as if the nozzle had been damaged at one time the modified to work. I was hoping to install a diverter on it since some mods are needed.
I took the bowl off tonight and saw that is was pretty bad inside.
So first question would be can someone help id the pump and do you know if parts to rebuild are out there.
attached are some pics and i will follow up with some more soon. its a pretty cool boat.
Funjet is the make. gotta take a tape to it for exact length as it has slipped my mind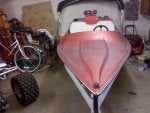 .
It has a 60 hp 2 stoke motor hooked to the jet.