Discussion Starter
·
#21
·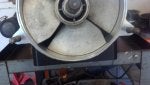 I got my new wear ring today. I attached a pic that shows the clearance.
Still hopeing someone may know why the two impellars are a little different (one shown in pics has a slight cut on each blade)
The one shown in these pics is the one i plan to use unless it is thought that the cut pieces will affect performance.
also looking for welder near elsinore that may be able to take a look at the bowl and see if it can be welded. Tom if you have any ideas PM me if you think you can put a berk nozzle adapter at the end on the new bowl?
thanks