The problems are discovered here:
http://performanceboats.com//showthread.php?t=77198
Maybe this thread will inspire people to measure up their stuff and check other peoples work. Heads in question are Dart pro 1 310cc. Came on a motor in a boat I bought. I just had the heads all done up at a local "performance" machine shop.
I have several problems:
1: Valve stem heights are all over the place requiring different length pushrods on different cylinders...which prompted me to pull the heads back off and then I discovered:
2: Chamber CC's on cylinder head #1 are 116-117-118-119, and cylinder head #2 is in the 121-122 range across the board.
now the quest to figure out why, then figure out how to fix it.
Head #1. The chamber volumes are indicative of a resurface job that took place on an angle...but there are no visual indicators that this occured. Dart says 0.005" per CC. 0.015" should be visable on that little rough cast area between the intake valve and the surface...but all looks well.
I know for a fact that the valves are screwed up....but I wanted to measure things to see if there was a sloping pattern that might lead to the chamber volumes I'm seeing. I also wanted to see if there was any surface worth trusting as a reference point from which to work from. I whipped up this little tool: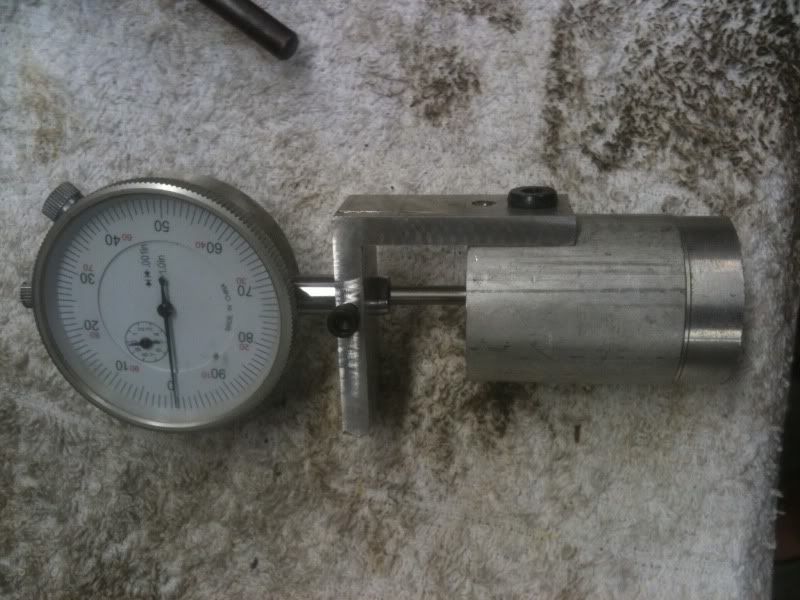 A couple pieces of scrap. The round piece has a releif for the valve guide and about 0.002 clearance over the valve itself. Doesn't give you any real numbers, but gives a good comparison between all the valves. It measures the distance between the valve stem tip and the spring seat.
I first picked 1 exhaust valve used it in every hole to get an idea of seat depth variation, or more realistically, varation in the distance between valve seat and spring seat. The 2 center cylinders were the same, one end was +.011 and the other end was +.006. Same test on the intakes revealed only a .004" variation. Shitty work, but not the cause of my problem.
Then I grabbed all of the valves and stuffed them into one chamber to compare the distance between the valve sealing point and the valve stems. Intakes had a 0.012" variation and exhausts had a .036" variation. Once again, shitty machine work.
I then wondered if all the spring seats from which I'd been referencing were in the same spots....but measuring between 2 angled surfaces is tough...so I whipped this up with a piece of stainless rodstock from the scrap bin and one of the valves...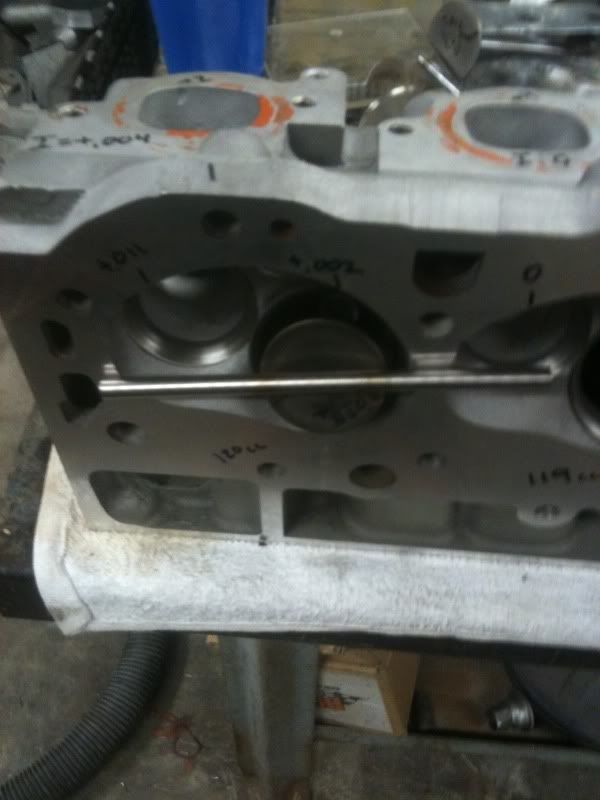 This gives me a measurement between the deck surface and the spring seat. I saw a .004" variation on the exhaust side and a 0.009" difference on the intake side, but with no real pattern.
I've still got to measure my total valve lengths, then scratch my head and put all these numbers together to hopefully come up with something meaningful that points me in a direction. I'm most likely gonna send these to Steelcomp to get done right, but I want to be able to know exactly what needs to be done before I hire someone to do 'em.
So far, I've found absolutely nothing on these heads that is halfway consistant.
More tomorrow....