Discussion Starter
•
#1
•
36 years ago my dad and his best friend bought a 1973 18' Sleek Craft "Rebel". It came with yellow base and root beer brown metal flake trim with dark brown upholstery (hotter than hell). It was powered by a 455 OLDs and a Jacuzzi jet (I know no one cares for this combo, but that's what it came with). We used it summer after summer at Lake Millerton, Lake San Antonio and Lake Buena Vista racking up hundreds of hours of skiing and tubing.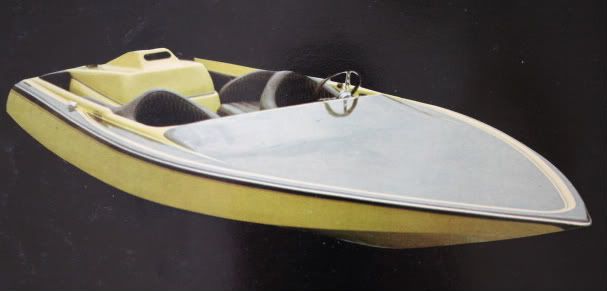 In the early 80's I bought out dad's friend and became his new partner. I really don't think dad who what he was in for. I took the boat to a friend and painted red and orange strips over the root beer brown and added some graphics to the bow. Then removed the cheap fiberglass motor cover with a much streadier wooden cover and reupholstered the seat and cover with a tan base with red and orange stripes. We ran it that way until the summer of 97. After a few bad trips to our local lake with morons that don't know how to boat, we put the boat away and had no desire to take it out again.
Ten years later our lives came full circle, when our daughter was spending some time in Fresno with some friends. My wife (Tiff) went down for the weekend to pick her up. The friends she was staying with were going to Pine Flat Lake so we tagged along. We met up with some of the greatest people we've met (rightytighty & his family). After a weekend of boating and skiing we left with smiles on our faces that we couldn't remove for weeks.
This is where the rebuild starts. Tiff gave me a choice, GET THE BOAT RUNNING AGAIN OR FIND A LAWYER. 2007 So once winter was over I pulled the boat out after 10 years. Little did I know what I was going to find. The upholstery was shot and then I open the motor cover and found the engine all rusty. No real big deal until I tried to crank it over and the found two piston rusted and seized up.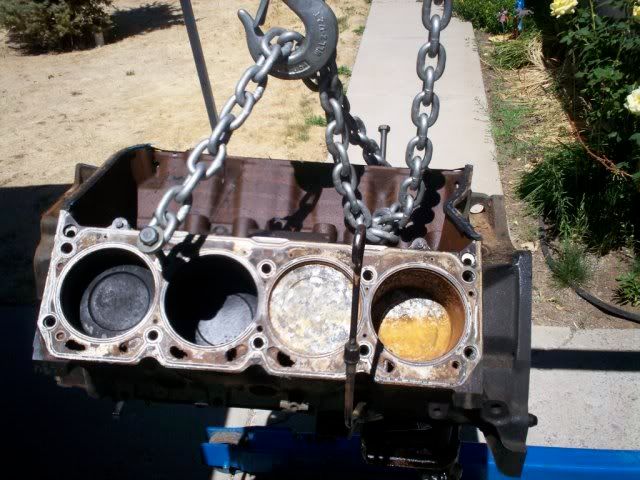 Unfortunately I didn't know about his site yet. So I bought a long block and started the rebuild. Even my daughter got involved.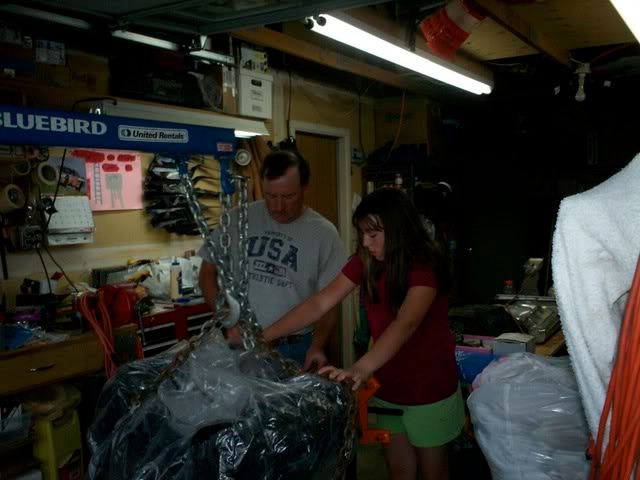 Once the motor was ready, I checked the fuel tanks and they looked a can of varnish that had been sitting around for ten years.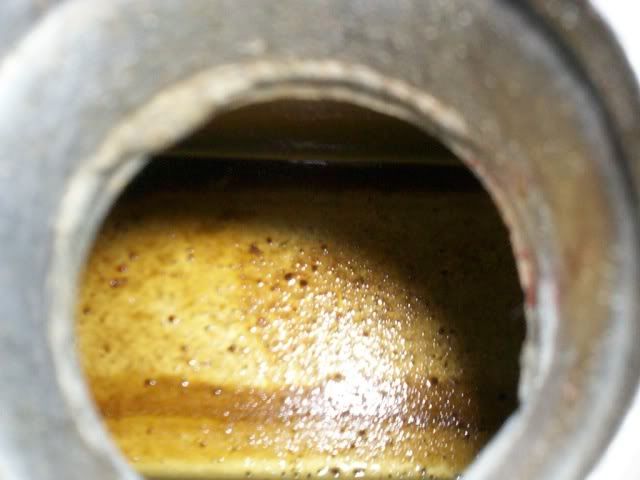 So I cut the glass away and pulled the tanks (man did that suck) and cleaned them and bought new gas caps. Re-glassed them back in and it was time to fire it up. Of coarse it didn't backfire through carb. Ya I had the distbutator 180 off.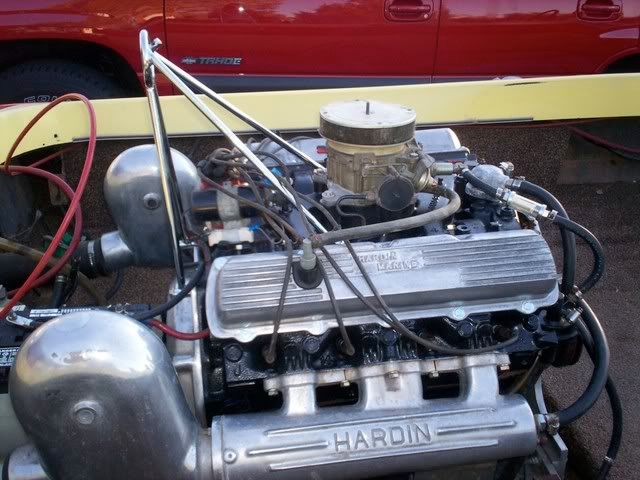 I called my friend Jimmie Johnson (not who think, just a regular guy) and he got it going in no time. It was running great after ten years. So I had to call dad and let him listen. I think he was as happy as I was. After a few things like new stereo, rebuilding the Buddie bearing and new tires it was time to go to the lake. It ran perfect!!!!
After a few trips to Pine Flat and spending some great time with our friends we were back in the groove. Of coarse with all boats it wasn't over. The distribuator went bad. I was told to get a MDS distribuator so off to Summit Racing I went and came back with a new Performer Edlebrock carb also.
2008 So once winter was over we were back to Pine Flat. Everything seem to running good when all of a sudden it started to sputter and then we smelt gas. I opened the motor cover and the fuel line was melted and pumped gas over the entire intake manifold. It was covered in boiling gas!!! Does anyone know at what tempeture gas will burst into flames? In over 40 years of boating this was the first time I told Tiff to get the FIRE EXTINUSHER and get ready to jump. Fortuneately nothing happen. Fix the fuel line and back on the water we went.
2009 A few weeks back I started working on a few things and ended up getting a new Performer Edlebrock intake manifold to help the carb. I pulled the old stock manifold off @ 60 pounds and the new one only weighs 20 pounds. I also cleaned the rusty pulley that was eating up my belts. The motor is starting to come around.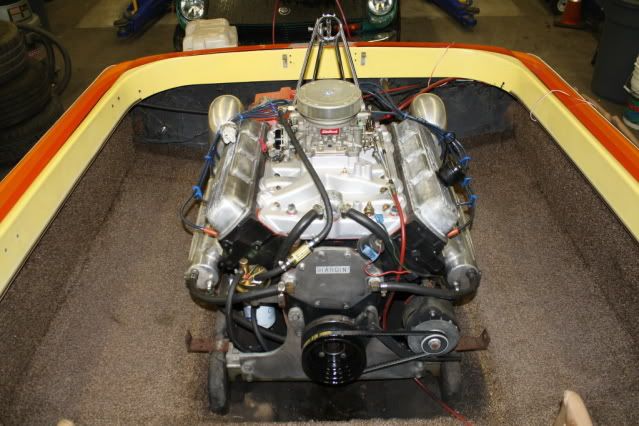 decided it was time to clean the trailer up some too. The boards were falling off and half the lights didn't work. I lifted boat off the trailer and got started.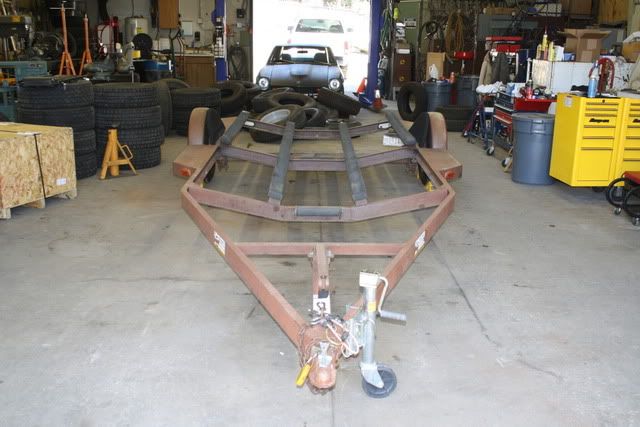 So after some primer, new RED paint to match our Tahoe, new bunk boards and carpet, all new wire and LED lights it looks pretty HOT!!!
Last July my partner & DAD lost his life to cancer. So now I have a new partner, the one who pushed me to get our dream back on the lake, my wife and best friend.
In 8 days we'll be back to Pine Flat to see how it runs.