·
Boss of the McIntyre Mob
Was at the sandbar by Aha and some guys in a Rhino were looking for someone. We helped find them. The people in the Rhino said that their friends had an accident.
Rocknpalms and I took off in out boats down river and this is what we found.
They used my rope and my brothers knife incase things went bad.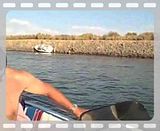 All went well. I offered to tow the guy back to the ramp, but he said he is good. I took off then. Next thing I know, he is on his way back to the sandbar!! LOL
He hooked up to his anchor and then relised the bilge was running. He said he was taking on water. Then the pumped stopped, so then he says they are ok. LOL
They did end up leaving. From what I understand, it was a borrowed boat.
My brother looked under the boat with a mask, he can tell ya when he saw.