Discussion Starter
·
#1
·
So my chick calls me up and sounds happy go lucky as usual and asks me to come over for dinner and the evening... So i grab the essentials and head out. I get there she seems normal then about an 2hr into me being there she sits at the table with me and drops the bomb.
" Im workin 2 jobs, my daughter this and that, my new house, stress stress stress blah blah blah" These are all normal factors to me, its life gotta work to get that house right?? And who says new home ownership wasnt stressfull???
Well apparently with all that there now seems to be no time for me in the equation. whatever i get left with the usual "maybe it will work for us in the future" weve all heard that right fellas??
anywho on the way home at midnite a little pissed off but totally ok. Here i am getting red lited by the police... GREAT!
license and reg blah blah i know the drill.
Asks me if i have anything better to do than driving around that late on a tuesday.. So i tell him what happend and he kinda smirks.. takes my information leaves... few mins later he hands me my "expired" CDL and my insurance card that just expired 20 mins prior to him pulling me over WTF!! lol!! REALLY? wonderfull.... my luck.
License is expired just awaiting the new one in the mail... Did he accept my temporary from DMV? HELL NO!!! did he give me a break on my 20 min old insurance card?? HELL NO! and does he cut me any slack for the 3mph over the limit.. Not at all..
So here i sit, pissed off just got dumped, now all this sitting on me. You think the guy would say hey go home work your shit out.. nope.
A wonderfull courtdate and ticket of whatever fine this is gonna be. Being a commercial driver no traffic school for me. i hate my life today..
so whats the next best thing to do???
assemble a valvetrain at 1:15 am cold beer in hand...
work tomorrow?? NAH sick day for me im getting this bitch in the boat. So many women on shore so little time!!!!
Is now the time to post all the nudy pictures?? lol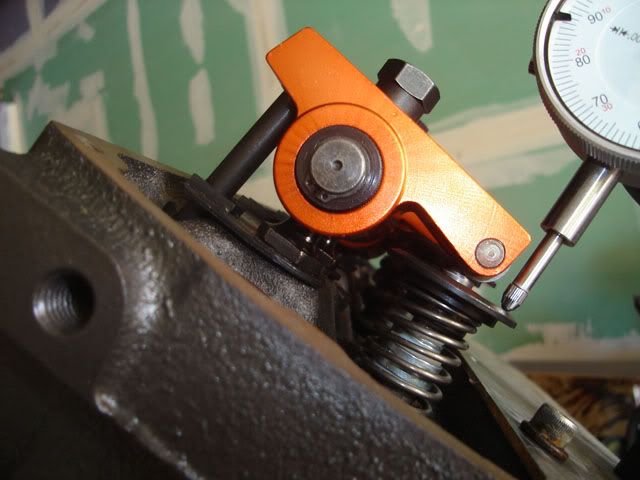 Im holding the square kinda sideways, its dead on though just hard to take a picture with the phone and hold that square lol...