It's about time but...............the economy sucks so this has taken longer .....way longer than I thought possable:
Not sure when it's going to hit the dyno but hopefully before August is over:
Engine being done by Greg at Total Performance in Santee. Most of it anyway (long block) and I'm going to bolt the other crap on..........................I think, we'll see:
I'm still not sure how you send a piston company a sample of what you want ( marked-up) and they make the piston wrong.......twice:
Greg had to re-cut the pistons finally got .085" on the intake with great radial clearance, it was way to close before with the 2.40" Ti-intake. We both feel way better about it now.
Piston finally correct and in at zero deck: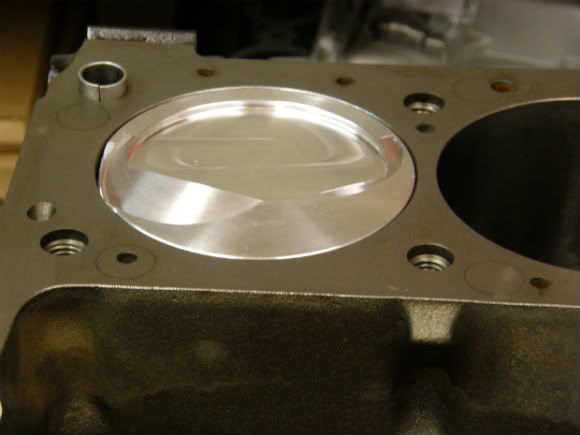 With the 66cc chamber the final compression ratio is 13:1 with a .045 head gasket ( not a pump gas deal) at least not this year: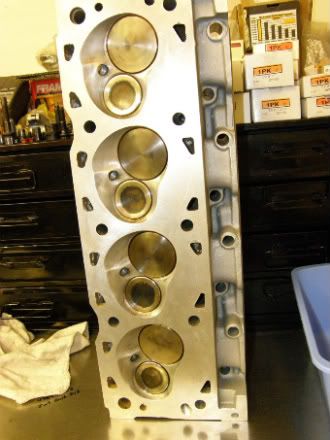 Fresh bore at 4.606" , new big old slugs for pistons,......... now kind of wish I'd gone with CP's but the pistons are vertical gas ported with a .043, 1/16th, 3/16th ring pack: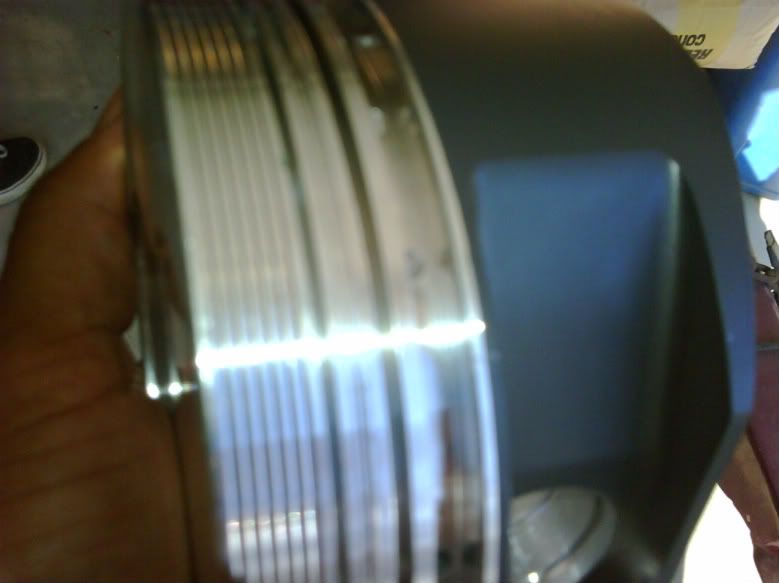 I'll post a few more pics later:
Trying something new with the rings. I've used Total Seal zero gaps for years..1993 or 1991, the rings in this are from Akerly and Childs with a
Tool Steel
top ring. They are supposed to be damn near industructable....Nitrous, blown applications. The .043" ring with the gas porting is supposed to work very well. We shall see.
Same old Crower custom roller cam ( Danny Crower) from year 2000.
278/285 @ .050, lobe sep is 113*, lobe lift at .433/.438
cam installed at 4* advanced, 109* intake centerline
So fresh bore, fresh ground crank (.020), new rings, new 13:1 pistons, same single intake, and 1,200 Pro System carb. It should do a bit more than the last time it was dyno'd in 2007 when it made 935hp at 7,000 and 765 lbs ft at 6,000 with a 1,050. I'm looking more for 800 lbs ft at 6,200 than I'm looking for top end power at 7,000- 7,200. But 730 lbs ft at 7,200 makes for a nice round number....... just don't know if it will carry the trq that high
bulb
I'm thinking 800 lbs ft +/- at 6,200 and 985 hp +/- at 7,000 is a nice goal. We shall see.
Stay tuned.
Specs:
4.606 bore x 4.25 stroke = 565 actually 567"
A-460 Block
Crower/Ford Motorsport crank 4.25 stroke ( .020 under)
Crower rods w/ BBC journal 6.536"
Modified A-460 heads flow 450 cfm at .750 lift ( 2.40 ti intake)
Crower Roller cam (Danny Crower) 278/285 @ .050 with .433 lobe lift
T&D Shaft rockers 1.8 ratio
Manton Push rods.
Arias pistons, gas ported
Akerly & Childs ring pack .043, 1/16th, 3/16th with a Tool Steel top ring
Stephs oil pan w/ kick out
Kaase oil pump
Pro System 1,200 cfm carb
MSD crank trigger and all that stuff...............
That's most of the good stuff.
S CP
Big Inch Ford Lover
grn